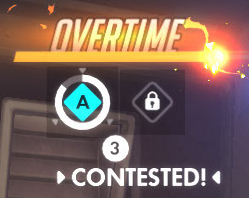 Overtime is the extension of a match's length that occurs if a player on the attacking team contests the point or payload as the timer runs out.
If an attacker contests the objective within the last 3 seconds of the timer, then the game will go into overtime, regardless of whether or not an attacker is present when the timer hits 0. As long as an attacking team member contests the objective, overtime will not end. If they capture the point or next checkpoint, overtime will end and the match will continue. If the attacking team stops contesting, the overtime meter will deplete. If the attacking team contests again, overtime will be reset, but if the meter fully empties the defending team will win the match.
The depletion rate stays the same for the first 20 seconds, but as overtime persists the depletion rate will grow quicker.
During overtime, players will take 2 more seconds to respawn.
Patch changes