Blizzard World is is a Hybrid map location in Overwatch.
"Epic fun detected: Welcome to Blizzard World.See your favorite gaming memories come to life in Overwatch's new hybrid map as you attack and defend the payload across Azeroth, Tristram, the Koprulu Sector, and beyond!themed around a theme-park designed around all of Blizzard's games."
―Blizzard[1]
The payload carries a glass case with a randomized item from one of Blizzard's franchises inside. Defenders on the map start in the Heroes of the Storm arcade, while attackers spawn in the Hearthstone tavern. First, the payload moves from the Warcraft-themed to the StarCraft-themed areas. Once secure, it then moves on to the Diablo-themed area, with the end point as the throne of the Skeleton King.
Images
General
Heroes of the Storm Arcade
Hearthstone Tavern
Warcraft
StarCraft
Diablo
Props and art
Videos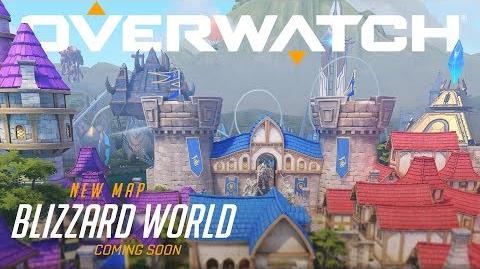 Trivia
Blizzard World was announced on November 3, 2017 at BlizzCon and was added to the PTR on November 20, 2017.
Addressing the observation that there is no Overwatch section of the park, Blizzard revealed that its company does exist within the game's world, but that they did not produce the Overwatch game.
Heroes received Blizzard franchise-themed skins when the map released. These skins are not exclusive to any event, and can be found in normal Loot Boxes.
Inside the arcade, there is a list of high scores for Murky Skeeball. The listings in intials go as follows:
Playing Sombra on defense first spawn when approaching the arcade machines will cause them to be hacked and have them give her 9999 points.
Patch changes
| | |
| --- | --- |
|  April 10, 2018 Patch: Moved the first payload checkpoint (Pylon Terrace) back 10 meters. | |
References